What Makes Laguna Beach an Ideal Winter Vacation Spot?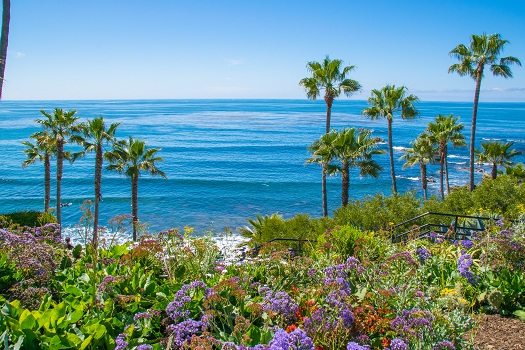 October 6, 2021
Located about an hour away from the hustle and bustle of Los Angeles, Laguna Beach is a small seaside town with an abundance of charm. It's also a perfect place to go when you're on the hunt for a great winter getaway. If you need a bit more convincing before you finalize your plans, keep reading to discover why Laguna Beach is a good vacation destination for winter, brought to you by the friendly staff from The Art Hotel, one of the most welcoming and ideally located hotels in Laguna Beach.
The Beaches Are Always Accessible
You don't have to wait until the summer months to hit the beach when you visit Laguna Beach. Due to the generally mild temperatures that continue throughout most of the year, the beaches in this area are always accessible. Located in the heart of the city, the main beach is where you can spend your winter vacation doing such things as:

• Strolling along the boardwalk
• Playing basketball or volleyball
• Taking your kids to the play area
• Checking out nearby shops and restaurants
• Taking a kayak tour in the adjacent waters to view the sights, including shorebirds, ducks, and other migratory birds that often pass through here in the winter months
You'll Get Amazing Views as You Hike
Winter in Laguna Beach is a time when you can be active outdoors, as long as you bring a comfortable jacket with you on some of the cooler days. Bring a poncho or umbrella as well, since Southern California winters are sometimes a bit wet. And while spring is when the Laguna Coast Wilderness Park is ablaze with beautiful wildflowers, this 7,000-acre space can be equally appealing in winter thanks to 40 miles of trails cradled by canyons and mountains.
There's a Beach-Adjacent Park Here
If winter hiking doesn't appeal to you, you're always welcome to get in touch with nature during your winter trip here at Heisler Park. Accessible from the main beach, this park has a mile-long path that will reward you with impressive ocean views. Picnic tables can also be used to enjoy a tasty meal outdoors.
Laguna Beach's Art Scene Alone Is Worth the Trip
The city got its start as an artist colony and still has a well-known art scene. As for how to check it out during a winter trip to Laguna Beach, a good starting point is the Laguna Art Museum. You can also enjoy an art walk during your visit. Taking place on the first Thursday of each month, the city's art walk will take you to 40-plus local galleries. Participating galleries also offer free shuttle service.
The Food Scene Is Just as Appetizing
One other very good reason to come to Laguna Beach in the winter is the food. You'll be treated to a mix of fine dining and casual fare. There's even a restaurant right by the beach where you can watch the sun set as you dine. Laguna Beach also has an impressive selection of bars and a thriving craft beer scene that can make your winter trip here even more memorable.
Laguna Beach offers an unforgettable winter experience for the whole family, and you'll love exploring this beach city while staying with us at The Art Hotel. When they're looking for comfortable hotels near Laguna Beach, visitors will be amazed by our proximity to the area's most popular attractions as well as our impressive list of amenities, including complimentary WiFi, flat-screen TVs with premium cable channels, in-room refrigerators, private bathrooms with hair dryers, and in-room coffee. Call one of our friendly staff members today at 949-593-2188 to make your reservation.