How to Celebrate Thanksgiving 2023 in Laguna Beach
October 16, 2023
There's never a bad time to visit the charming, laid-back southern California town of Laguna Beach – this fall is no exception! If you're looking for a mild, warm, and beautiful place to unwind for a few days, our Laguna Beach Hotel is exactly what you're looking for. Join us for a bit of fun on the beach or perhaps an adventure with the Top of the World Hike!
Imagine this: a bright pink sunset over a long white beach, a glass of Pinot, and a turkey feast you didn't have to lift a finger for. That could be your Thanksgiving in Laguna Beach this 2023,and it's as easy as pumpkin pie! This year, let's kick tradition to the curb and enjoy a Thanksgiving weekend like none other along the California coast in Laguna Beach.
There are so many things to be grateful for this time of year, and a trip with loved ones is a perfect way to celebrate the changing of seasons. This quaint beach town is the ideal way to make new memories, have some fun, and close out a remarkable year. Here are a few of our favorite things to do on Thanksgiving weekend in Laguna Beach.
Join the 46th Annual Dana Point Turkey Trot
View this post on Instagram

Looking to burn some calories before Thanksgiving feast? Join in the fun of the 46th Annual Dana Point Turkey Trot! Just 15 minutes away from The Art Hotel in Laguna beach, kick off your holiday with a beautiful run or walk through Dana Point Harbor along a 5K, 10K, or 15K combo course. Registration includes an event shirt, medal, bib with timed results, and virtual goodies. Don't forget about the kids' 1-mile Gobble Wobble and lively costume contest at the start line. Fuel up then burn it off – sign up today for this bursty and colorful Thanksgiving tradition!
Celebrate Thanksgiving Dinner with an Ocean View
Whether you go barefoot or black-tie, there are endless options for an unforgettable Thanksgiving dinner in Laguna Beach. With over 100 restaurants along the Laguna Beach coastline, you are sure to find a delicious menu that caters to every palette and dietary need. If you are looking for fine dining and high-end service while maintaining a laidback California coast feel, Montage also offers a Thanksgiving brunch buffer and a four-course pre-fixe tasting menu for Thanksgiving dinner. The restaurant has incredible views, even better cocktails, and a familial style that makes you feel right at home. If you want a Thanksgiving dinner with an international flair, book a table at Las Brisas. The cliffside restaurant offers upscale Mexican cuisine that harnesses the bold flavors of traditional cooking with locally sourced high-quality produce. You can't go wrong with a margarita at Thanksgiving!
Be sure to book your table early and request a seat with an ocean view for maximum relaxation this Thanksgiving in Laguna Beach!
33rd Annual Winter Fantasy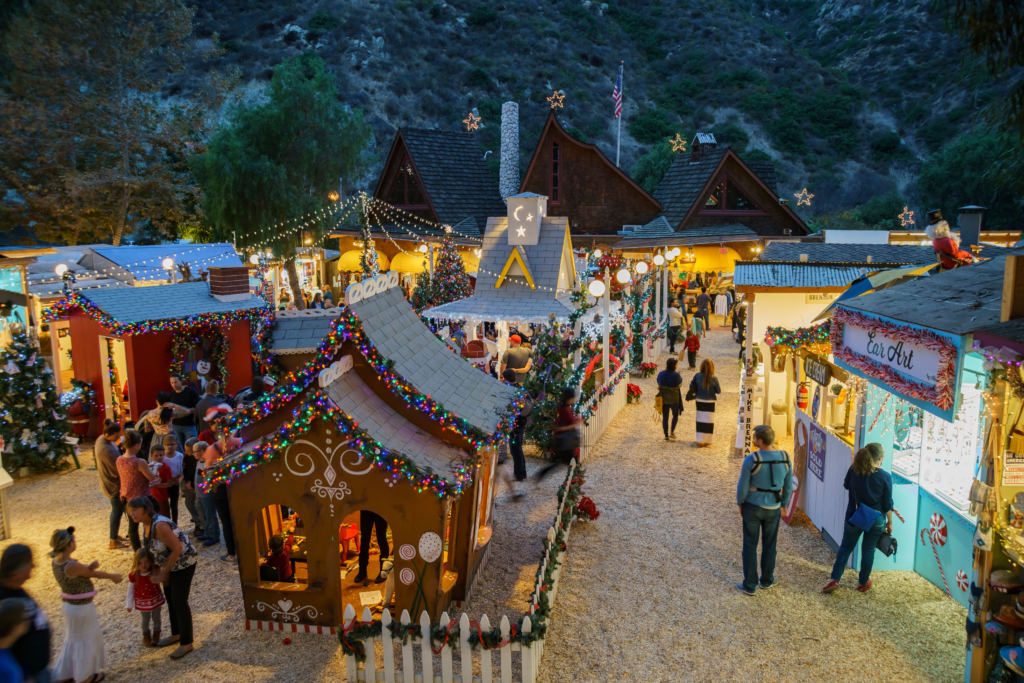 Get your holiday spirit on and experience three acres of winter wonderland at the 33rd Annual Sawdust Art Festival's Winter Fantasy on Thanksgiving in Laguna Beach. It's a whimsical holiday art festival complete with gorgeously decorated Christmas trees, thousands of lights, and shining shimmering Christmas decorations. The holiday spirit will be all over the air as roaming Victorian carolers sing your favorite holiday songs, and local bands grace the festival's stages with banging music.
The marionette puppeteers, magic acts, a visit to Santa, and the art classes will be a sure hit with your kids or the kid in you. Enjoy it all with a hot beverage on hand, and tasty meals from our concession stands to keep your bellies happy and full. But most of all, come and support the 165 local Laguna Beach artists and vendors at the market. From ceramics to tile art, jewelry pieces, clothing, toys, and other handcrafted gifts, find the perfect gift for your loved ones while supporting the community. The festival will run five weekends from November 17 to December 17, 2023, from 10am to 7pm. Get your tickets here.
Dive into the Great Outdoors
Enjoy the great outdoors and visit one of Laguna's many secluded beaches this Thanksgiving 2023. With summer in the rearview mirror, several local beaches turn into magical little hideaways where you can cozy up with a good book and a Thermos of your favorite pumpkin spiced latte. Wood's Cove is perfect for the adventure family that craves adrenaline year-round. Body surfing, stand-up paddle boarding, and snorkeling are all quintessential California ways to freshen up before Thanksgiving dinner! Don't forget to rent a wetsuit at your local surf shop, though. A little extra layer will help extend the fun even longer.
Crescent Bay Beach is the perfect spot for wildlife-watching with the family. The beach is sandwiched between large rocky stretches, and the north point, called Seal Rock, is home to local seals and sea lions. The kids will get a kick from seeing these friendly sea creatures singing and sunbathing in their native habitat.
Look for Treasure at Pirate Tower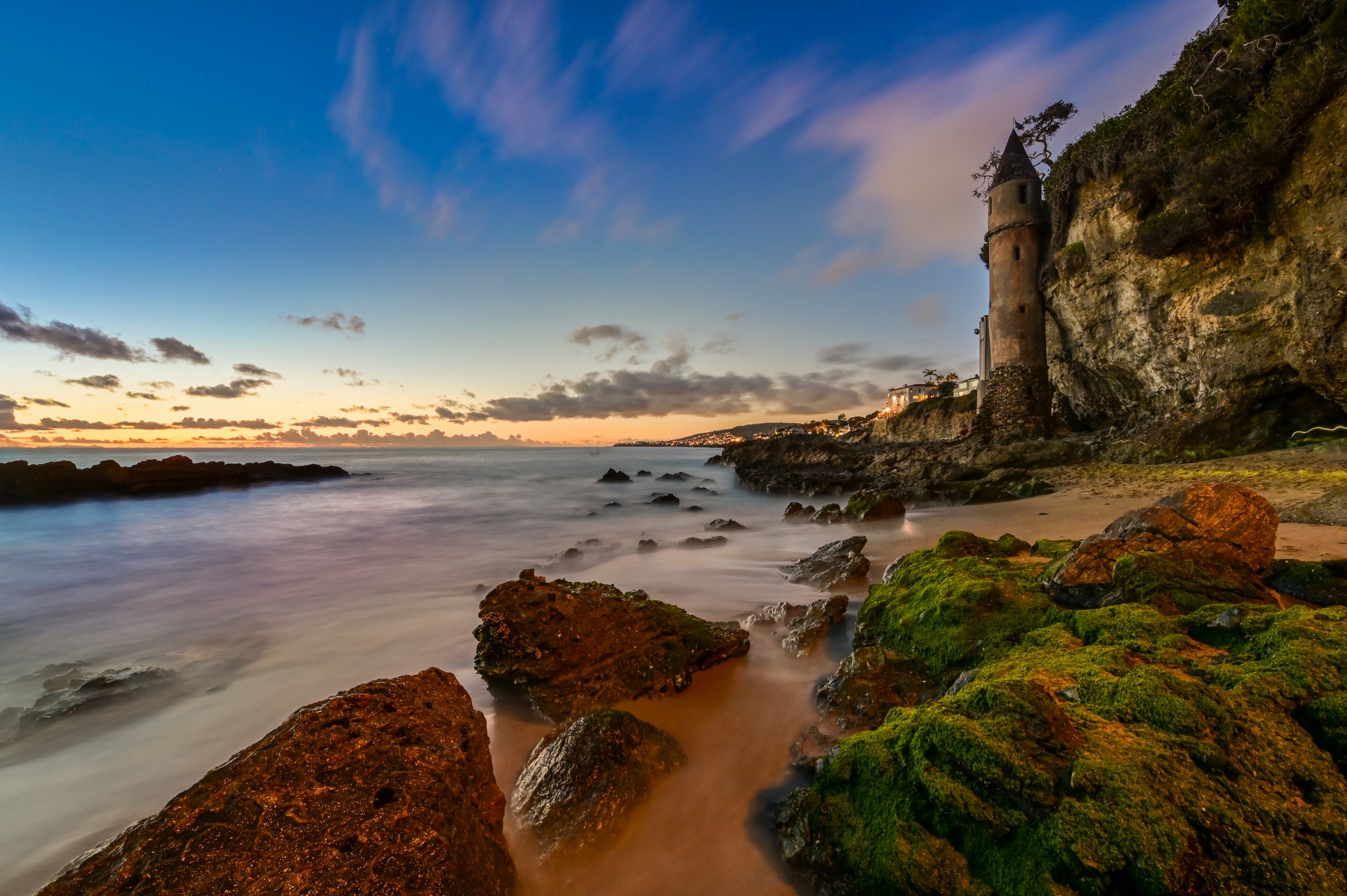 No trip to Laguna Beach is complete without an outing to Victoria Beach's Pirate Tower. Built in 1926 as a private staircase – a rather decadent, daydream-inspiring staircase – for the home of William E. Brown, a local senator. The second owner of the home adjacent to the tower, Harold Kendrick, was a retired navy captain who enjoyed dressing up as a pirate to entertain local kids passing by. While the history of the tower isn't particularly mysterious, the allure of Pirate Tower remains. Be sure to visit at low tide so you can access the base of the tower. Who knows, you might even be extra thankful to find a buried treasure!
Visit the Laguna Art Museum
Dry off and cozy up for an afternoon of art and local history at the Laguna Art Museum. The museum hosts incredible works from local artists as well as changing art installations that highlight the rich culture of the coast. Don't worry about the kids disconnecting during your trip to the museum – the Laguna Art Museum LAB was designed as an exploratory play space for all ages. There are art supplies and easy-to-follow tutorials to teach your little ones how to make their own masterpieces. Keep an eye on the events calendar for an updated schedule of their current exhibits and displays.
________________________________________________________________________________________________________________________________________________
Located just one block off the North Pacific Coast Highway, the Art Hotel is situated perfectly to be your home away from home during your Thanksgiving weekend in Laguna Beach. Only a short 18-minute drive to the John Wayne Airport and less than an hour from Los Angeles International Airport, our ideal location makes exploring the California coast easy and breezy. With daily complimentary breakfast and a friendly pet policy, you and your family will be set for your days adventuring around our pristine coastline. We look forward to meeting you soon!