Top 7 Reasons to Make Laguna Beach Your Vacation Destination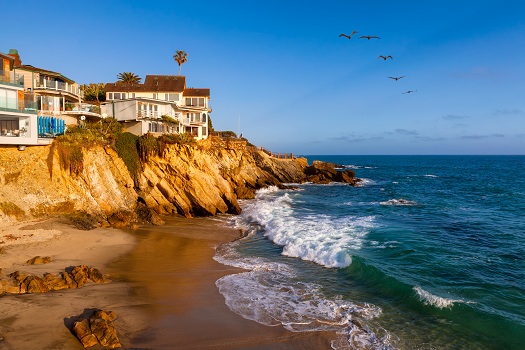 October 3, 2021
The next time you plan a trip with your family or friends, Laguna Beach should be at the top of your list of possible vacation destinations. The weather is beautiful, and there's no shortage of activities to enjoy, regardless of the season. Take a moment to learn about some of the reasons you should vacation in Laguna Beach.
1. The Art
Laguna Beach is an amazing spot if you're looking for photo-worthy destinations for your social media accounts like Instagram. There are numerous murals, sculptures, decorated beaches, painted walkways and stairs, and so much more to see while you're here on vacation. If capturing these artistic views isn't enough, you can plan your trip around events like the Festival of Arts and Pageant of the Masters to view more beautiful works.
2. Wildlife
Travelers looking for wildlife need to visit Laguna Beach because of the area's natural beauty and fascinating creatures, including whales. There are wildlife tours and boating excursions to take, whether you want to see deer, big cats, rabbits, or sea lions and dolphins.
3. Walking Tours
If exercising is one of your favorite pastimes, Laguna Beach offers a variety of fun ways to get your heart rate up, including walking tours. Some of these tours are self-guided, while others are managed by guides. Regardless of the option you choose, there are many sights to see, including the beautiful water, art, and coastal gardens.
4. The Beaches
This is one of the top reasons people choose this California destination. There are over 30 nearby beaches to visit, each with its own unique highlights. Take advantage of surfing, swimming, and sunbathing. At some of the beaches, you can find more than water-related activities, including basketball and volleyball, shopping, and strolling on boardwalks. After a day of fun in the sun, sand, and surf, you'll be ready to return to the comfort of your hotel near Laguna Beach for some rest and relaxation.
5. Refreshments & Cool Spirits
If you want to enjoy an alcoholic beverage, the Laguna Beach Company is a great spot. Many travelers visit this popular brewery, which has a variety of craft beers named after local landmarks. While grabbing a craft beer, you can receive a history lesson about the town, enjoy a bite to eat, and marvel at some amazing scenery.
6. Yoga Sessions
You can meditate and stretch your muscles by practicing yoga on the beach or in a private studio. Many beach sessions are free, allowing you to work out, take in the fantastic views, and get the mental relaxation you need. If you forget to pack your yoga mat, water bottle, and sunscreen, there are plenty of Laguna Beach shops where you can pick up these necessities.
7. Amazing Weather
The weather is always pleasant in Laguna Beach, which is why it's such a popular vacation destination. If you prefer warmer temperatures, it would be best to visit during the summer and spring months, but if you like cooler days, the winter and fall seasons are the best. However, the weather is always beautiful, so outdoor adventures are enjoyable all year long.
When you visit Laguna Beach, you'll find so much to enjoy you won't be able to do and see everything on your list in just one day, so make sure to reserve your room at The Art Hotel, a premier Laguna Beach hotel conveniently located close to major theme parks, museums, fine dining, boutique shops, and miles of pristine coastline. Bring the whole family to our pet-friendly coastal retreat that's just a block away from the beach. Our staff is dedicated to making your stay unforgettable, so call us to reserve your room today at 949-593-2188.