Favorite Spots for Laguna Beach Locals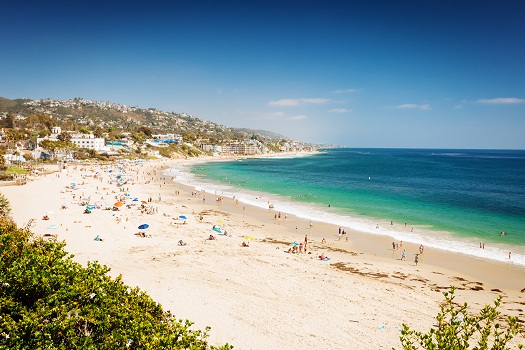 February 16, 2022
The nearly nine square miles of Laguna Beach encompass stunning landscapes, a thriving art culture, and common activities visitors might want to explore. Visiting the community like a local involves participating in a variety of outings residents often enjoy on a daily basis. Stop by popular hot spots, get acquainted with the local culture, and become immersed in what Laguna Beach has to offer. The friendly staff from The Art Hotel, one of the most welcoming hotels Laguna Beach visitors can find, explain where the locals like to hang out.
Popular Beach Options
A number of beaches actually comprise the community known as Laguna Beach. The ample waves of Crescent Bay Beach are popular with body surfing enthusiasts. Snorkeling and scuba diving fans take advantage of the clear waters to explore the world beneath the surface. Tide pools at low tide reveal a fascinating selection of marine life. Thousand Steps Beach remains a popular destination for anyone desiring a bit of a workout. The journey requires 218 steps to go from the Pacific Coast Highway on 9th Street down to the waterfront and back up again. Locals also regularly go surfing here. Treasure Island Beach remains a hot spot for snorkeling and swimming.
Dining Hot Spots
The Driftwood Kitchen offers indoor and outdoor dining with spectacular views in all directions. Seafood lovers frequent the venue for the creative meals presented by chef Rainer Schwartz. Favorites include unique charcuterie plates, mussels in steamed white wine, and fried crab sandwiches. Diners with more exotic tastes can visit Mozambique for the selection of meals infused with a South African influence. Dinner selections might include curry dishes, fresh fish, or wood-fired steaks with a choice of salads and sides. The venue is also a frequent nightlife location, as guests enjoy cocktails and snacks while being entertained by live music.
Outdoor Excursions
Hiking remains a popular pastime in Laguna Beach, which has more than 100 miles of trails. Crystal Cove State Park is one of the most popular hiking destinations among local residents. Before you head out from your Laguna Beach hotel, pack a quick lunch and a bottle of water to enjoy in the fresh air and sunshine. The park has 2,400 acres and 18 miles of trails consisting of terrain that varies from oceanfront beaches and forested canyons to elevated hills. The southern region of Laguna Beach offers the 151-acre Pacific Horizon Preserve and a moderately difficult loop hike that offers visitors tranquility and beauty.
The Art Culture
The community of Laguna Beach has long been recognized as having a well-established art culture. On the first Thursday of each month, more than two dozen art galleries participate in the Art Walk, which offers the chance to meet local talent while gazing upon their works in the evening. Live music, beverages, and snacks are also part of the celebration. A trip to the Laguna Beach Art Museum is also popular among locals who appreciate creativity. Various studios offer classes for anyone desiring to explore and release their hidden artistic abilities. 
You're certain to find plenty of fun things to see and do during your vacation in Laguna Beach. Explore this amazing city's variety of enjoyable activities while staying with us at The Art Hotel. Whether you're interested in touring art galleries, doing some whale watching, sipping delicious local wines, or relaxing on a warm sandy beach, The Art Hotel is the ideal place to stay. When they're looking for comfortable local hotels, Laguna Beach visitors make us their top choice because we offer all the amenities our guests need for a relaxing getaway, including complimentary WiFi, flat-screen TVs with premium cable channels, and in-room refrigerators and coffee. Call us at 949-593-2188 today to reserve your room.