Top Things Laguna Beach Is Famous For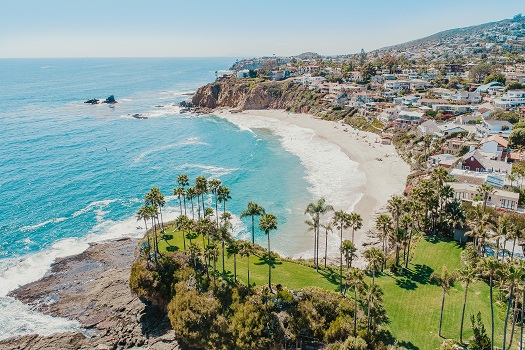 November 14, 2021
When it's time to take your next vacation, Laguna Beach should be at the top of your list. This seaside retreat has wonderful weather, beautiful scenery, and other aspects that make it a popular vacation spot for visitors from all over the world. Below are some of the adventures and attractions Laguna Beach is most known for.
The Climate
Most people choose Laguna Beach as their vacation spot because of the gorgeous weather, especially if they're traveling from colder areas during the holidays and winter months. Having the opportunity to go to the beach and enjoy water activities or go on hikes and trails without the fear of bad weather is a benefit many travelers crave. Laguna Beach should be at the top of your list if you're looking for an area known for year-round beautiful weather.
Parks
Laguna Beach has some well-known parks, such as Heisler Park. These areas offer scenic views filled with flowers and plants, many of which are colorful and picturesque. If you decide to spend a day at Heisler Park, you can take in the art displayed by the Laguna Art Museum, which is adjacent to the park. You and your family could also enjoy lunch next to one of the barbecue grills, giving you the ability to make more memories while cooking and discussing the blooming gardens lining the pathways. These pathways offer mile-long views, and you can safely stroll on them while visiting the area.
St. Francis by the Sea
When traveling to this California destination, many people stop by this historic church, if only to take photos for memories and their scrapbooks. St. Francis by the Sea is one of the smallest cathedrals in the world, and it's even listed in the Guinness Book of World Records for its diminutive size. There are approximately 42 seats inside the cathedral, along with a small choir loft. In the early '90s, a significant earthquake left behind the rubble that was salvaged and used to build the cathedral. 
Shopping
Beaches and parks make this spot known among travelers, but other tourist attractions do as well, such as places to enjoy art and shopping. While staying at a comfy hotel in Laguna Beach, you can explore the downtown area, take in the gorgeous views, and visit countless stores to purchase the latest in fashion, housewares, artwork, and more. The boutique shops downtown offer a variety of clothing and accessories visitors can wear while on vacation or take home to share with their family, friends, and coworkers. The area stretches from Legion Street to Main Beach Park. 
You're certain to find plenty of fun things to see and do in Laguna Beach. Explore this amazing city's variety of enjoyable activities while staying with us at The Art Hotel. When they're looking for comfortable local hotels, Laguna Beach visitors make us their top choice because we offer all the amenities our guests need for a relaxing getaway, including complimentary WiFi, flat-screen TVs with premium cable channels, and in-room refrigerators and coffee. Call us at 949-593-2188 today to reserve your room.