What Kind of Cuisine Is Laguna Beach Known For?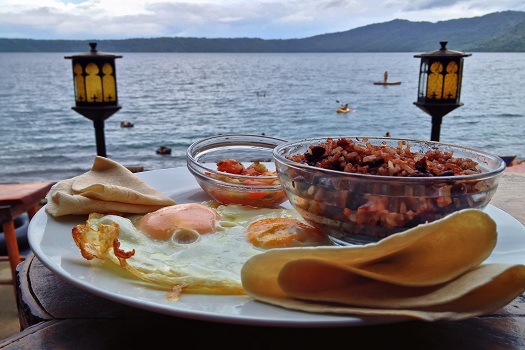 February 23, 2022
You don't have to be an avid foodie to have a great time in Laguna Beach. Still, it's always good to know what your options are with tasty bites, delicious dishes, and other edible delights when coming here. With more than a hundred restaurants sprinkled throughout the area, there's much to choose from when it comes to Laguna Beach's food scene. Work up an appetite by learning more about the types of food this small, charming coastal community is known for. The friendly staff from The Art Hotel, one of the most welcoming and ideally located hotels near Laguna Beach, strongly recommend checking out the following cuisine during your visit.
Seafood
Ocean-to-table dining is a big thing in Laguna Beach and surrounding communities, which is one of the reasons seafood is one of the foods the area is known for among locals and regular visitors staying in Laguna Beach hotels. After all, there's something to be said for perfectly prepared citrus-cured kampachi and other equally mouthwatering seafood dishes at many of the seafood restaurants in the area. The spectacular views only enhance the experience. The local sushi is worthy of mention, too.
American BBQ Cuisine
Tempura-battered stuffed avocados and cherry-glazed salmon are just some of the barbeque-related offerings you'll find in Laguna Beach. Brisket and pulled pork sliders are among the many other popular faves with BBQ cuisine in the area. All the BBQ offerings here come with an assortment of sides to round out your meal.
Pizza & Other Classic Comfort Foods
Pizza is popular pretty much everywhere, so it's no surprise it's also very much appreciated throughout Laguna Beach. The main difference is the pizza served here has a distinctive coastal touch that makes it worthy of your attention. If you're a pizza fan, definitely give the wood-fire-cooked pizza topped with house-made mozzarella at Wine Gallery, one of the top restaurants here, a try.

As long as we're on the topic of comfort foods and culinary staples that can fill you up, Laguna Beach won't disappoint if you enjoy any of the following comfort food classics:

• Well-stuffed burgers served with fries and other palate-pleasing sides
• Flavor-packed mac and cheese at local spots like Ruby's Diner and Alessa by Chef Pirozzi
• Refreshing ice cream treats at local places like Chantilly Ice Cream and Urth Caffé Laguna Beach
International Flavors
The food scene in Laguna Beach is just as diverse as the city's art scene. A perfect example of this is the many international flavors you can enjoy locally during your visit. In addition to classic Italian fare, this is a list that includes authentic Thai cuisine and freshly cooked south-of-the-border dishes and treats.
Creative Cocktails
The mojitos here regularly earn raves, and that's just the tip of the iceberg with the creative cocktails and other adult beverages you're welcome to sample during your visit to Laguna Beach. You'll also appreciate hibiscus tea–infused vodka drinks and the many other creative drink flavors the area is known for. The craft beers served here also come highly recommended.
With such a variety of culinary delights to choose from, you'll want to stay for a while, so reserve your room today at The Art Hotel. When they're looking for exceptional Laguna Beach hotels, visitors will be delighted by our proximity to the beach and the area's most popular attractions as well as our impressive list of amenities, including complimentary WiFi, flat-screen TVs with premium cable channels, in-room refrigerators, private bathrooms with hair dryers, and in-room coffee. Call one of our friendly staff members today at 949-593-2188 to make your reservation.