Uncommon Ways to Have Fun in Laguna Beach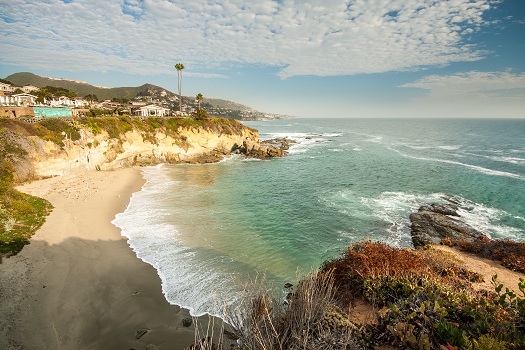 January 23, 2022
A compelling argument can be made that Laguna Beach is one of the best coastal destinations in California. We can absolutely say with certainty it's a charming community with an indescribable abundance of beautiful surroundings and things to fill up your to-do list. If you have a tendency to seek out more unusual locations and activities during your travels, you'll love your time here while staying at a comfortable hotel in Laguna Beach. Below, we put the spotlight on some of the more truly unique things to do and see during your visit.
Picnicking at Alta Laguna Park
Having a picnic at one of the outdoor table/chair arrangements at Alta Laguna Park is a unique thing to do because of the spectacular views here. The park is perched on top of a hill that overlooks practically the entire city. Just make sure to bring an umbrella, since you could encounter some rain while here.
Making Your Way to Thousand Steps Beach
A more unique way to have a great beach experience in Laguna Beach is to go to this more secluded beach. Thousand Steps Beach is accessible by a set of deep steps—there are only about 200 or so of them, not a thousand—and it's a great place to swim, watch the sun set, or even play some volleyball if you're so inclined.
Having Family Fun at Big Air Trampoline Park
If you'll be coming to Laguna Beach with kids, consider having a unique experience at this spacious all-ages recreation spot. In addition to large trampolines, there's a foam pit here. Food is available as well.
Snapping Some Pics of Pirate Tower
You'll find this unique spot over by the edge of a cliff at Victoria Beach. For nearly a century now, it's been one of Laguna Beach's most photogenic hidden gems. Just make sure to get here before high tide, since you'll need to descend some stairs around a bunch of rocks to get a good view of it.
Checking Out the Second Smallest Cathedral in the World
That's the distinction officially given to St. Francis by the Sea Cathedral by Guinness World Records. It's definitely a unique architectural wonder worth checking out when visiting Laguna Beach.
Taking a Scenic Drive along the Pacific Coast Highway
Another unique thing you can do during your visit to Laguna Beach is start from the portion of the iconic Pacific Coast Highway accessible here and go for a scenic drive. You're also welcome to stop at some of the small communities nestled along the way if you're up for some day trip fun.
Seeing Fascinating Marine Animals
The Pacific Marine Mammal Center has been rescuing and rehabilitating marine animals since the early 1970s. Keeping this in mind, one other unique thing you can do while in Laguna Beach is see some of these rescued creatures for yourself. The animals cared for typically include sea lions and seals.

Note: The center is temporarily closed to visitors until February 1st, 2022.
You're certain to find plenty of unique things to see and do during your vacation in Laguna Beach. Explore this amazing city's variety of enjoyable activities while staying with us at The Art Hotel. Whether you're interested in touring art galleries, doing some whale watching, sipping delicious local wines, or relaxing on a warm sandy beach, The Art Hotel is the ideal place to stay. When they're looking for comfortable local hotels, Laguna Beach visitors make us their top choice because we offer all the amenities our guests need for a relaxing getaway, including complimentary WiFi, flat-screen TVs with premium cable channels, and in-room refrigerators and coffee. Call us at 949-593-2188 today to reserve your room.