5 Safety Tips for Traveling during Coronavirus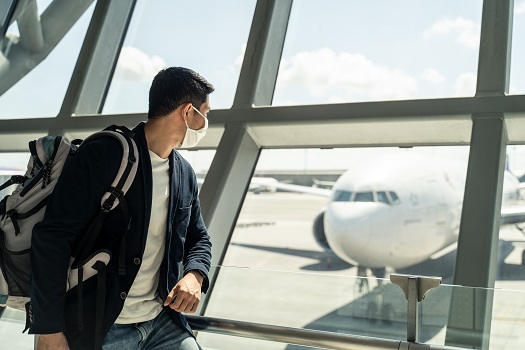 November 17, 2021
Traveling has gotten a lot better since the early days of COVID. While you can fly and take other forms of public transportation with relative ease, there are still a few things you'll want to plan for when you travel to Laguna Beach during the pandemic. Below, the friendly staff from The Art Hotel, a charming hotel Laguna Beach visitors love for its laid-back vibe and ideal location, offer five travel tips to help you stay safe while following the top COVID recommendations.
1. Watch Out for Symptoms before & during Your Trip
Since the pandemic started, you might have been asked a series of questions to make sure you weren't sick before you did things such as schedule a home repair visit. You'll want to conduct a similar screening on yourself before you head out on your trip. If you have a fever, runny nose, cough, or other unusual symptoms, it might be better to get tested for COVID-19 before you leave home.
2. Identify Testing Sites & Clinics Beforehand
There's always a possibility you might get sick while you're traveling. As you plan your trip, take a moment to identify places where you can quickly schedule a test or see a doctor if you develop symptoms. This makes it easier to avoid infecting others, and you'll appreciate not having to search around when you might not be feeling your best.
3. Pack Plenty of Your Preferred Masks
For now, masks are required in the majority of businesses. This policy could change before your trip, but it's still good to have masks on hand for any situation where you can't avoid being around large groups of people. Whether you prefer disposable or washable masks, stashing a few extras in your bag means you won't be caught without one if you encounter a place where they're required.
4. Ask about Your Hotel's COVID Policies
Hotels in major tourist destinations have always maintained strict policies regarding sanitation and hygiene. You can expect to arrive to a clean room that's ready for guests to relax in. However, you may want to check into what recommendations your hotel has regarding things such as mask wearing in the public areas of the building.
5. Continue to Use Caution in Crowds
You're already in luck when you plan a trip to Laguna Beach because limiting your time around crowds is fairly easy when you've got so much space to explore outdoors. However, it's easy to forget about all of your concerns when you're spending time by the water. Try to remember to stay at least six feet away from other people who aren't in your traveling group. You'll also want to keep this distancing rule in mind when you're indoors at restaurants and other venues. By making it a priority to continue to prevent being exposed to the virus, you can help yourself and others get the most enjoyment from spending time in a beautiful city.
When you visit Laguna Beach, you'll find so much to enjoy you won't be able to do and see everything on your list in just one day, so stay for a few days and enjoy the comfort and laid-back atmosphere at The Art Hotel. If you're looking for a great hotel near Laguna Beach, you'll love our relaxed charm, and we're within driving distance of a wide array of Southern California points of interest. From free pastries every morning and rooms with complimentary WiFi, flat-screen TVs with premium cable channels, and refrigerators to our ideal location close to boutique shops, museums, fine dining, and miles of gorgeous coastline, we can provide you with the perfect seaside escape. Call us today at 949-593-2188 to make your reservation.