Does Laguna Beach Have Nice Weather in the Early Part of the Year?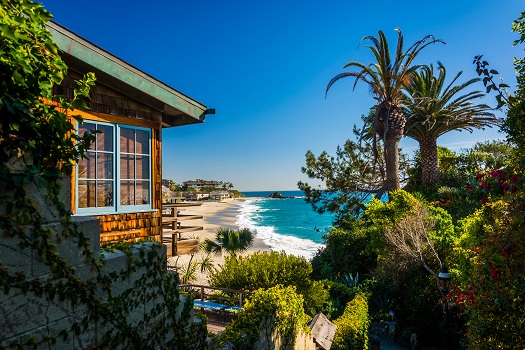 January 16, 2022
Perched to the south of Los Angeles, Laguna Beach is a scenic seaside paradise with much to offer at any time of the year. If a visit to this cozy city is something you're considering for the beginning of the year, it's understandable to prefer to be prepared for what you might experience with the weather. Below, we give you a general idea of what to expect weather-wise in Laguna Beach during the earlier part of the year and what it means for your to-do list possibilities.
The Climate Is on the Tropical Side Most of the Year
Laguna Beach has a generally tropical climate. The summers here are usually warm, while skies are generally clear. The winter months, in general, are cooler. Cloudy days are more common during this time as well, although you'll notice a gradual shift to warmer, clearer days as spring arrives.
Temperatures Are Generally Mild
A better way to get a feel for the weather in Laguna Beach during the beginning of the year is to look at average temperatures. Throughout the year, temperatures here range from around 50 degrees to the mid-80s. During the cooler months, it rarely dips below the mid-40s.
Rain Is More Common
According to the Laguna Beach Visitors Bureau, rain is more common during the earlier part of the year. During this period, the average rainfall is 2.5 inches per month. February is the month that typically has the most rain in Laguna Beach. The good news is that daytime temperatures during the same period rarely get below the mid-60s. Feel free to bring an umbrella for those just-in-case moments, and you should be good.
Pack Attire for Cooler Temperatures
Be prepared for Laguna Beach's weather earlier in the year by booking your room at a comfortable hotel in Laguna Beach and taking some time to pack things you'll likely be glad you brought with you. Because days can be warm, go ahead and bring your normal attire. Also, pair that with some long pants, a light jacket, and some light sweaters, since cooler winds from the Pacific make things a bit chilly on some days. You may also wish to bring shoes with nonslip soles.
Enjoy Earlier-in-the-Year Activities
Even with it being winter at the beginning of the year, there are still plenty of things to do and enjoy during this time in Laguna Beach. For instance, Main Beach is usually accessible. There's also a boardwalk here where you can take a casual stroll and check out the view. Some of the other earlier-in-the-year things to do here include:

• Going to the weekly farmers' market, which takes place all year
• Booking a tasting at Laguna Canyon Winery
• Taking free yoga classes often available here at local parks and beaches
• Fishing from the pier
• Visiting local museums
• Savoring and sampling local dishes and treats at area eateries 
Laguna Beach offers an unforgettable experience no matter when you visit, and you'll love exploring this beach city while staying with us at The Art Hotel. When they're looking for comfortable hotels near Laguna Beach, visitors will be amazed by our proximity to the area's most popular attractions as well as our impressive list of amenities, including complimentary WiFi, flat-screen TVs with premium cable channels, in-room refrigerators, private bathrooms with hair dryers, and in-room coffee. Call one of our friendly staff members today at 949-593-2188 to make your reservation.