5 Trendiest Places in Laguna Beach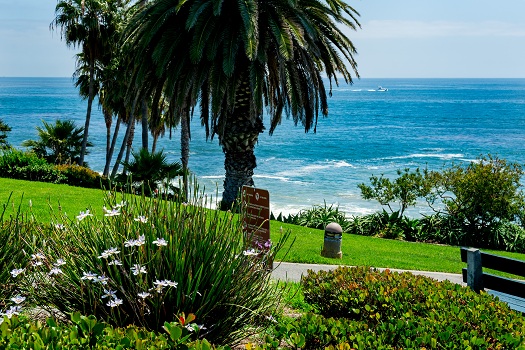 January 26, 2022
Relaxation is easily and understandably the common vibe in Laguna Beach, given this location's scenic surroundings and other appealing perks. Still, this cozy coastal city has some hip spots worthy of your time during your visit that can make your trip an even more memorable one. The friendly staff from The Art Hotel, one of the most welcoming and ideally located hotels near Laguna Beach, offer this rundown of the top five Laguna Beach hip spots to check out.
1. Main Beach
The hippest beach here is the Main Beach, and it's the local beach destination often preferred by visitors, locals, and even some celebrities now and then. It's also a hip spot because of its prime location on the Pacific Coast Highway close to shops and restaurants. Additional Main Beach features include:

• A beachfront park
• Sand volleyball courts
• Two basketball half-courts
• Children's play equipment
2. Heisler Park
This oceanfront park gets a lot of attention for the same reason the Main Beach does—it's easily accessible and a great place to take in some gorgeous views. In fact, it has even been referred to as one of the most scenic spots in all of Southern California, which certainly makes it "hip" in our book. Appealing park features include:

• Public art
• Comfortable beach seats
• Blooming, colorful gardens
• Picnic tables
• BBQ grills
• Convenient ocean access
3. The Downtown Area
Much of Laguna Beach's art scene and shopping hot spots can be found within the city's downtown area, which stretches from the park adjacent to the Main Beach to Legion Street. In the shops in this area, you'll find trendy and stylish clothing, beach gear, antiques, various art pieces, and jewelry. The city's lively art scene is also on full display in this area in the various galleries found here. Dining opportunities abound in downtown Laguna Beach as well, making it a great place to spend the better part of a day.
4. Laguna Coast Wilderness Park
If you have an appreciation for nature, your idea of a "hip spot" may be more on the outdoorsy side. In this instance, one of the hippest spots in the area for outdoor enthusiasts has to be Laguna Coast Wilderness Park. Blanketing Laguna Beach and located in the San Joaquin Hills, it's an incredibly scenic and sprawling natural space spanning roughly 7,000 acres of canyon land. A popular adjacent spot here is Big Bend Trail, where you can enjoy some amazing hiking or biking. Horseback riding is another popular activity. You're also welcome to stop at Nix Nature Center to get an updated list of recent wildlife sightings.
5. Marine Room Tavern
One of the top customer-reviewed bars and live music joints in Laguna Beach is Marine Room Tavern. Located on Orange Avenue, this bar has an appealing speakeasy vibe you'll love if you prefer a throwback style. It's definitely a hip, happening spot if you prefer really good brews, tasty treats, and an inviting setting where there's always something going on. The live music here includes a rotating mix of genres and styles.
No matter what kind of hip experience you're looking for, you're sure to find plenty of options in Laguna Beach. Stay for a few days and enjoy the comfort and laid-back atmosphere at The Art Hotel. When they're looking for exceptional Laguna Beach hotels, visitors will be delighted by our proximity to the beach and the area's most popular attractions as well as our impressive list of amenities, including complimentary WiFi, flat-screen TVs with premium cable channels, in-room refrigerators, private bathrooms with hair dryers, and in-room coffee. Call one of our friendly staff members today at 949-593-2188 to make your reservation.