How Much Time Should I Plan to Spend in Laguna Beach?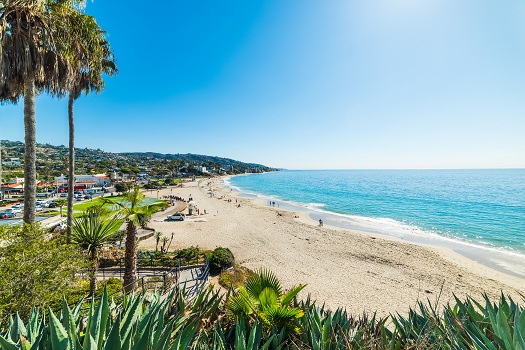 February 9, 2022
The cozy city of Laguna Beach is easily one of the most appealing gems in California's coastal region. It's a great place to visit whenever you can get away to stay in a hotel near Laguna Beach, regardless of how much time you may have available. This is why the best way to answer the question we posed above is to break it down by three common time frames for Laguna Beach visits.
Single-Day Visits
If you're limited on time, you can still have a memorable and enjoyable time in Laguna Beach. In this instance, one convenient possibility is a single-day visit. This can be done on any day that works well for you, especially if you're able to easily get here. With a single-day visit, immerse yourself in the best of Laguna Beach with a well-rounded itinerary that could include:

• Spending some time at the easily accessible Main Beach
• Casually strolling through the incredibly scenic and visitor-friendly Heisler Park
• Checking out the art scene here with a quick trip to the Laguna Art Museum or local art galleries
• Pleasing your palate with refreshing cocktails, savory comfort foods with tasty twists, and other goodies
Weekend Trips
What's great about the weekend option is there's a lot of flexibility with what a weekend stay in Laguna Beach can be. For instance, you can go with a two-day stay on any Saturday and Sunday that works for you or extend your weekend to include Friday or Monday. You may prefer the latter option if you'll be coming here on a holiday weekend. Another possibility is to time your weekend visit to coincide with popular Laguna Beach events like the annual Festival of Arts Pageant of the Masters.

With a weekend trip, you can also divide your time up with more flexibility than what's possible with a one-day stay. In this case, you could mix things up with a tasty assortment of local breakfast, lunch, dinner, and dessert options if you want the full foodie experience. A weekend stay also gives you more time to enjoy the best of Laguna Beach by:

• Visiting a few other local beaches in addition to the popular Main Beach
• Doing some casual shopping at small local shops or convenient shopping hubs like Village Faire Shoppes
• Viewing the creative works at Wyland Gallery or nearby museums devoted to regional art
After a day of shopping and fun in the fresh air and sunshine, you'll be ready to return to the comfort of your hotel near Laguna Beach for some rest and relaxation.
Vacations that Last for a Week or Two
If you have the time, a longer stay in Laguna Beach can be even more personally rewarding, refreshing, and enjoyable. This is more likely to be doable for most people in the summer or toward the end of the year during the holiday season. If you stay for one or two weeks, your visit can include everything already mentioned plus:

• A more in-depth exploration of local rock formations and coves
• An up-close-and-personal look at the marine life found at Pacific Marine Mammal Center and local beaches
• Hiking and exploring at the Laguna Coast Wilderness Park and similar locations
• Day trips that might include wine tours of Orange County or a visit to Los Angeles 
When you visit Laguna Beach, you'll find so much to enjoy you won't be able to do and see everything on your list in just one day, so make sure to reserve your room at The Art Hotel, a premier Laguna Beach hotel conveniently located close to major theme parks, museums, fine dining, boutique shops, and miles of pristine coastline. Bring the whole family to our pet-friendly coastal retreat that's just a block away from the beach. Our staff is dedicated to making your stay unforgettable, so call us to reserve your room today at 949-593-2188.