Fun Things for Couples to Do in Laguna Beach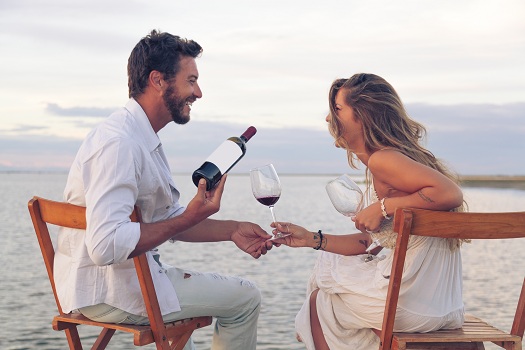 November 24, 2021
Laguna Beach is a perfectly pleasing West Coast destination for anyone looking to relax in an enjoyable way. This is also true if you'll be coming to this small coastal city with someone special. If you need a few suggestions for fun activities couples can enjoy as you prepare for your trip for two to Laguna Beach, check out what's recommended below by the friendly staff from The Art Hotel, one of the most welcoming and ideally located hotels in Laguna Beach.
Walking at Heisler Park
You and your significant other will be treated to fantastic ocean views while strolling along the paved walkways at Heisler Park. Several beaches are also accessible from this park, one of which is Picnic Beach. If you pack up some goodies purchased locally, you're welcome to enjoy a couples picnic on one of the grassy areas here.
Booking a Wine Tour or Tasting
Sample wines from premier California regions like Napa and Sonoma during your time together in Laguna Beach. If you'd like to take a day trip about an hour and a half away to Temecula, one way to do this is by booking a couples tour with Straight Off the Vine Wine Tours. This particular tour includes visits to multiple regional wineries. With local wine tastings for couples, consider:
• Laguna Canyon Winery
• Salt Creek Wine Co. in Laguna Niguel
• McClain Cellars
Hanging Out at Balboa Fun Zone
Take a short half-hour day trip to Newport Beach with your significant other to spend the day riding bumper cars and playing classic carnival games. These are just some of the many fun activities two people can enjoy together at Balboa Fun Zone, a popular ocean-adjacent mini-amusement park.
Taking a Local Food Tour
When it comes to enjoying a couples dinner, there's something to be said for local dining spots like Splashes Restaurant, with its palm-shaded patios. However, if you and your partner have a real passion for food, consider booking a food tour to boost your fun level in Laguna Beach. Feast Laguna is one of the local places with food-related tour options. The tours are three hours long and include plenty of tasty dishes and expert input from Laguna Beach locals.
Going on a Self-Guided Public Art Tour
Some couples find local art even more appealing than regional cuisine when traveling. If this applies to you and your partner, consider having some fun together in Laguna Beach by going on a self-guided public art tour. A brochure that includes directions to 75 pieces of public art created by local and international artists can be accessed online. You can also pick it up at City Hall once you arrive here.
Taking Surfing Lessons Together
You and your partner can learn the basics of surfing during your visit by scheduling lessons ahead of time and then trying out your new skills at the Main Beach or other popular local beaches. The angle of the area's beaches produces smaller swells, which works well for beginners. Make sure to enjoy the magnificent sunset views from the beaches here when you're not surfing together.
Couples will love exploring Laguna Beach while staying with us at The Art Hotel. When they're looking for comfortable hotels near Laguna Beach, visitors will be amazed by our proximity to the area's most popular attractions as well as our impressive list of amenities, including complimentary WiFi, flat-screen TVs with premium cable channels, in-room refrigerators, private bathrooms with hair dryers, and in-room coffee. Call one of our friendly staff members today at 949-593-2188 to make your reservation.