Top 5 Things Laguna Beach Visitors Should Put on Their Do-Not-Miss Lists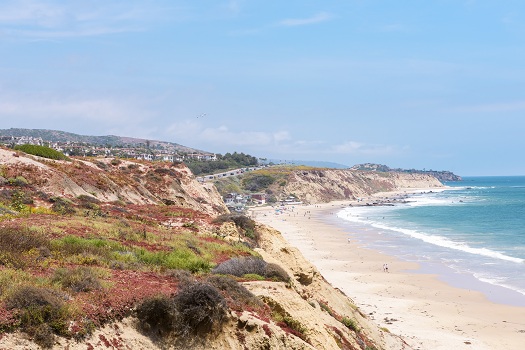 December 22, 2021
Laguna Beach is a smaller coastal destination in Orange County with an abundance of appealing options to put on your weekend getaway or vacation to-do list when coming here. You can't really go wrong with anything you prefer to do while staying at a fantastic hotel in Laguna Beach, given this location's many amenities and gorgeous views. That being said, we present five things below we think you absolutely won't want to miss during your visit.
1. Crystal Cove State Park & Area Beaches
Nestled between Corona del Mar and Laguna Beach, this easily accessible park is notable because it's one of the largest open spaces in Cali with a natural coastline. It's where you can take in the view or enjoy activities in the water for a big chunk of the year. Speaking of the coastline, we can't talk about Laguna Beach without mentioning the many beaches in and around this area, including the sprawling Main Beach and the smaller Table Rock Beach.
2. Local Art Displays
Laguna Beach started as an art colony and continues to foster a welcoming environment for artists and art lovers. Today, the local art scene is on display at local art museums, including the Laguna Art Museum, which specializes in preserving works by California artists. You can also check out local and regional art while in Laguna Beach at:
• Laguna Gallery of Contemporary Art
• Dawson Cole Fine Art Gallery & Sculpture Garden
• The Grace Galleries
Another way to check out local art during your visit is to make your way to public displays found throughout Laguna Beach. For example, Beaching Whale is a work of art prominently featured at Heisler Park, and a truly unique half-man, half-tree with a "bird heart" piece is perched at Village Green Park.
3. Coastal Wines & Brews
Laguna Canyon Winery is one of the many spots where you can sample regional wines during your time here. McClain Cellars also comes highly recommended, as does Bianchi. If you prefer more food options with your adult beverages, there are plenty of can't-miss local bars like Hennessey's Tavern and the Seahorse Bar at Pearl Street General you'll also appreciate visiting.
4. Community Events
Laguna Beach hosts an assortment of community events, including art festivals that regularly draw large crowds to this coastal location. The city has many other events as well sprinkled throughout the year where you can mingle with locals during your visit. Just check the city's calendar of events before your trip to see what will be going on during your visit.
5. Tasty Dishes & Treats
Seaside eateries, izakaya-style gastropubs, and fine and casual restaurants serving up classic staples with a coastal twist are among the many dining possibilities you won't want to miss out on during your visit. In fact, a strong argument can be made that Laguna Beach is one of the most rewarding foodie destinations in this part of California. This is thanks, in part, to highly recommended food and drink spots that include:
• Selanne Steak Tavern
• Gu Ramen
• Las Brisas
• 242 Café Fusion Sushi
You're certain to find plenty of fun things to see and do during your vacation in Laguna Beach. Explore this amazing city's variety of enjoyable activities while staying with us at The Art Hotel. Whether you're interested in touring art galleries, doing some whale watching, sipping delicious local wines, or relaxing on a warm sandy beach, The Art Hotel is the ideal place to stay. When they're looking for comfortable local hotels, Laguna Beach visitors make us their top choice because we offer all the amenities our guests need for a relaxing getaway, including complimentary WiFi, flat-screen TVs with premium cable channels, and in-room refrigerators and coffee. Call us at 949-593-2188 today to reserve your room.