Laguna Beach's Top Hidden Gems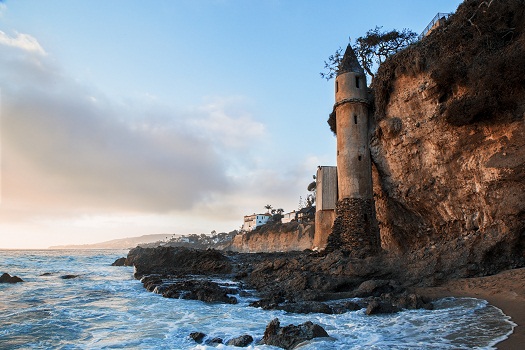 December 19, 2021
Laguna Beach is a charming seaside retreat with gorgeous beaches, sunny skies, a thriving arts culture, a laid-back surfer vibe, and plenty of one-of-a-kind shops and restaurants. Visitors can easily get caught up in doing the "tourist thing," but in addition to the well-known popular attractions, there's a lot more to see and enjoy in Laguna Beach. If you're planning a visit to this magical town, check out this list of local hidden gems to explore while you're here, brought to you by the people who know the area best, the friendly staff from The Art Hotel, one of the most comfortable and ideally located hotels near Laguna Beach.
Thousand Steps Beach
If you want to avoid beach crowds, you'll love this more secluded beach nestled between the ocean and the cliffs in South Laguna. When you get to the entrance, all that separates you from the welcoming warm sand is, of course, a thousand steps. Going down the steps is super easy, but coming back up is a bit of a steep trek, so make sure to take everything you need with you on your first trip down.
At the bottom of the vine-covered stairs, you'll be met by a spectacular view of the ocean and the beach. Sheer cliffs create the cove that surrounds this beach, which stretches for about seven blocks. This hidden gem of a beach is famous for both its long staircase and for being an ideal place for surfing, playing beach volleyball, and simply soaking up the sun.
La Tour—The Mysterious Tower of Laguna Beach
If you're a history buff, you'll love this medieval-looking tower just north of Victoria Beach. Built in 1926 as part of a home for California State Senator William Edward Brown, this 60-foot-tall tower was designed as a private spiraling staircase that provided access to the beach from the house. Known as La Tour (French for "tower"), the structure was inspired by the chateaus and castles Senator Brown and his wife had seen in France when they were helping with the war relief effort following WWI. The concrete beach tower features a cone-shaped roof and several narrow window openings that allow light to shine on the interior wooden spiral stairway. The tower isn't open to the public, but it offers a spectacular view, especially at low tide.
The Hortense Miller Garden
Hortense Miller, an extraordinary woman who was an early feminist, teacher, author, gardener, artist, science lover, and much more, established this garden in 1959. One of Laguna Beach's most exotic and colorful destinations for locals and visitors alike, the garden covers more than two acres of the upper slopes of Boat Canyon. This exquisite garden features a vast array of plants, particularly those that grow natively in Southern California's coastal zones.
Top of the World
If you're looking for a bit of adventure, put on your hiking boots and head to the gorgeous rolling hills surrounding Laguna Beach, where you'll find Alta Laguna Park, a community park known locally as Top of the World. You can choose from among easy, moderate, and difficult trails, all of which provide some of the area's most breathtaking views of the ocean. The panoramic vista at Top of the World extends all the way from Catalina Island to Mt. Baldy.
You're certain to find plenty of fun things to enjoy during your vacation in Laguna Beach. Explore this amazing city's variety of hidden gems while staying with us at The Art Hotel. Whether you're interested in touring art galleries, doing some whale watching, sipping delicious local wines, or relaxing on a warm sandy beach, The Art Hotel is the ideal place to stay. When they're looking for comfortable hotels in Laguna Beach, visitors make us their top choice because we offer all the amenities our guests need for a relaxing getaway, including complimentary WiFi, flat-screen TVs with premium cable channels, and in-room refrigerators and coffee. Call us at 949-593-2188 today to reserve your room.