Top Walkable Areas in Laguna Beach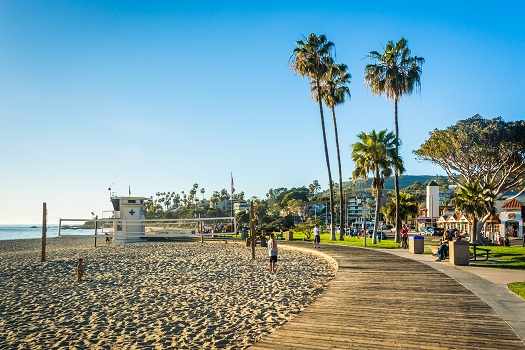 December 12, 2021
If you're looking for a place to explore in Southern California, look no further than Laguna Beach. This beautiful coastal city is home to many fun things to do, and it's also one of the most pedestrian-friendly cities in America. From picturesque beaches to gorgeous neighborhoods, there are a variety of places in Laguna Beach that are ideal for exploring on foot during your time in this charming seaside paradise.
Main Beach
Main Beach is a popular destination for tourists and locals alike. Here you'll find a variety of bars where you can sip a glass of wine or enjoy a cocktail while watching the sun set over the ocean. The restaurants around Main Beach are also great for foodies who want to enjoy a meal with a spectacular ocean view. You'll rarely find parking spaces open at peak times because it's such a popular destination. However, you can easily park on side streets when it gets crowded. After a day of exploring this popular area, you'll be ready to return to the comfort of your hotel near Laguna Beach for some rest and relaxation.
Seagrove Park
This oceanfront park has a small beach where many people like to take pictures before walking up the paths surrounded by luscious greenery. It provides the perfect reprieve from the warm Southern California sun. Seagrove Park is located in an area where it's easy to find parking on the street. The beach is also great for people who want to practice yoga. It's easily accessible and has a unique charm about it that makes visitors feel like they've traveled back in time.
PCH Boardwalk
The PCH Boardwalk runs along the Pacific Coast Highway (PCH) that separates Main Beach from Heisler Park, and it's home to several restaurants that serve delicious local cuisine until late at night during the summer months. There are benches to sit on, so it's also a great place to watch the sun set.
North Laguna
North Laguna has a rich history as well as beautiful homes. It also has some fantastic coffee shops that have been known to attract all types of visitors. With many art galleries and antique shops, this is a great place for people who like shopping.
Heisler Park
This park, located between North Laguna and Main Beach, has a beautiful view of the ocean, and the cliffs are fun to explore if you're feeling adventurous. People walk to this park to enjoy its stunning views and historic lighthouse, and many visitors come to relax or take pictures of the beaches and the cliffs.
When you visit Laguna Beach, you'll find so many walkable places and so much to enjoy you won't be able to do and see everything on your list in just one day, so make sure to reserve your room at The Art Hotel, a premier Laguna Beach hotel conveniently located close to major theme parks, museums, fine dining, boutique shops, and miles of pristine coastline. Bring the whole family to our pet-friendly coastal retreat that's just a block away from the beach. Our staff is dedicated to making your stay unforgettable, so call us to reserve your room today at 949-593-2188.