6 Items to Pack for Your Laguna Beach Vacation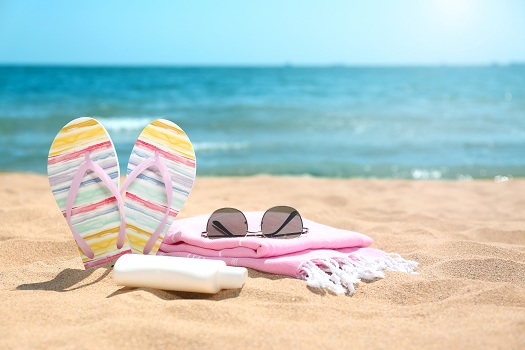 November 7, 2021
Laguna Beach is so gorgeous you can have a fun time without having to pack a bunch of stuff. However, being prepared can always make your trip go more smoothly. Here are six essentials to bring when you take a trip to Laguna Beach.
1. Comfortable Shoes
Laguna Beach is very walkable. You don't want to miss out on a morning stroll to brunch or a fun bar crawl because you don't have any comfortable shoes. There are also a lot of renowned hiking trails along the edge of town, so you might benefit from bringing shoes you can wear on trails.
2. A Medium-Sized Tote
When you want to bring a few things down to the hotel pool or take a change of clothes to the beach, a lightweight tote bag can be a lifesaver. It makes it easy to carry around things like your towel, sunscreen, and credit card. Having a little beach bag with you also makes it easy to do things like transition from lunch at a café to an afternoon on the beach.
3. A Waterproof Windbreaker
Most people think of relaxing in the sun when they visit Laguna Beach. However, temperatures can get a little chilly when you're out on the water. If you plan on going on one of Laguna Beach's famous boat tours, such as a whale watching cruise, you'll appreciate a lightweight jacket. It can keep the brisk breeze and ocean spray from making you feel cold. 
4. A Power Bank
Once people get to Laguna Beach, they're usually out and about all day. Don't let a draining phone battery make you feel like you have to keep going back to your hotel near Laguna Beach or find a coffee shop to sit in while your phone charges. A power bank makes it easy to keep your phone charged on the go so you can capture precious memories or make plans with friends.
5. A Camera, Journal, or Sketchpad
Laguna Beach is a dream vacation destination for anyone creative. The stunning surroundings and the chance to relax inspire a lot of people to experiment with creative activities. You might find yourself wanting to sketch some local flowers, take photos of a stunning sunset, or write your thoughts in a travel journal. Bringing along a simple creative activity can make your Laguna Beach vacation as enriching and rewarding as possible.
6. One Nice Outfit
For most of your trip, you'll probably be in shorts, tank tops, and swimsuits. However, don't forget Laguna Beach also has an upscale side. The town features elegant art galleries, fine dining opportunities, and all sorts of fun galas. If you want to take part in this side of Laguna Beach life, pack something like a stylish dress or a collared shirt and jacket.
When you visit Laguna Beach, you'll find so much to enjoy you won't be able to do and see everything on your list in just one day, so make sure to reserve your room at The Art Hotel, a premier Laguna Beach hotel conveniently located close to major theme parks, museums, fine dining, boutique shops, and miles of pristine coastline. Bring the whole family to our pet-friendly coastal retreat that's just a block away from the beach. Our staff is dedicated to making your stay unforgettable, so call us to reserve your room today at 949-593-2188.